Shelf Bust Vintage 50s Full Skirt Pink Party Dress -
SOLD
Rhinestone Accents * Smashing Bust Construction!
This vintage 50s party dress is cuter than cute and quite sexy, too. Do you want a party dress that's adorable, fun, and ready to get you noticed? This dress is your best choice.

Pretty in pink, this one is new old stock and made from soft chambray. It's an "Everglaze" chambray signature fabric. (Check out the hang tag.)

When our mannequin, Sabrina, put this on she felt so sweet and innocent, but then she looked down and saw the serious boob enhancing "crumb catcher" bust and knew that in a dress like this, all eyes were bound to be on her! It's just that sexy. It's fitted and fabulous and then there's a 3-d effect that's driven home with the fabulously 50s shelf-bust. A chunky, sparkling rhinestone doodad accents the big long built-in bow. Then, there are even more sparkly rhinestones that decorate the white soutache trim on the yoke. This pink confection is over the top in the best way.

The dress is all cotton and zips up the back with a long metal zipper. It's got a flared full skirt that's even better when worn with a crinoline as we've shown it here.

We suspect there are loads of fun 50s frocks out there, but we're just not ready to concede that this one isn't one of the best. Because it is. Ready to make jaws drop? If so, this is your dress.

---
Condition:
EXCELLENT. New Old Stock with tags. There is one tiny pin hole about one inch below the belt buckle.

---
Designer/Label: Princess of Chicago

---
Color: Pink with White Trims
Fabric: Chambray Cotton

---
Size: M
Measurements: Bust = 38 " Waist = 28 " Hip = full at 64 " Shoulder to Waist = 16 " Length = 42 "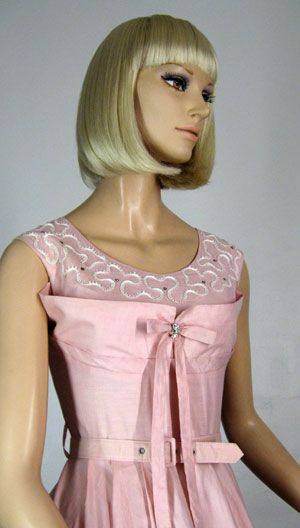 Click For More Images
Will this item fit you?
To avoid disappointment and restocking fees, please read our
Sizing Guide for complete measuring and fitting information.
SOLD