Nice Vintage 50s New York Designer Geometric Print Dress -
SOLD
Best Print! Best Collar! Best Bet!
There's a new girl in town and she's just as cute as can be in her vintage '50s sheer dress!

When Luann arrived at the luncheon, everyone noticed her dress. Her neighbor, Lenore Constance said that the big portrait style collar was just fantastic! Lenore Constance went on to say that Luann was "just as cute as a button!"

Luann was pleased she chose this bold, over sized houndstooth check frock. Sure, she wasn't as rich as all the other ladies on the block, but she knew that it would be wise to try to look as pulled-together and sharp as possible for this luncheonette. As a new comer to Oak Dale, Luann worried about how the neighbors might look down on her because she didn't have all the nice clothes and things that everyone else had. Still, it was nice to be invited and she was delighted that her Spector and Shanler dress didn't disappoint. (That store was always turning out good fashion at a nice price point.)

Wouldn't you know it? That Lenore Constance is so wealthy she had the lunch catered! And, she even had air conditioning in the house. Sure, the sheer voile was great to wear on a hot summer day, but Luann felt terrible that she forgot her cardigan. It probably didn't matter. No one was even the least bit aware that she was shivering a little bit as she took a bite of her watercress sandwich and sipped her raspberry lemonade from that pink straw.

We are happy to report that Luann passed the "Lenore test" and will be invited to the neighborhood barbecue next week.

---
Condition:
Perfect, but it is missing a belt. (Belt shown not for sale.)
Era: 1950s

---
Designer/Label: Spector and Shanler : New York

---
Color: Dark charcoal, olive print on white.
Fabric: Cottony voile, perhaps a cotton blend.
Fabric Notes:
This is quite sheer and requires a slip.

---
Size: M
Measurements: Bust = 40 " Waist = 28 " Hip = 68 " Shoulder to Waist = 15 1/2 " Shoulder = 15 " Sleeve = 8 " Length = 43 1/2 "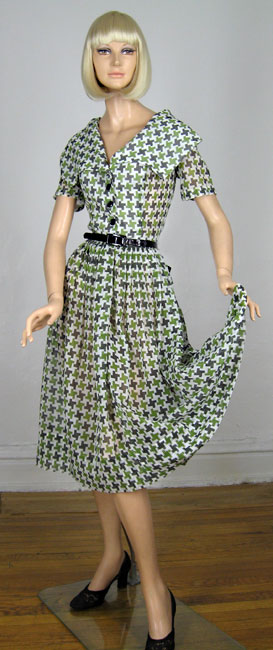 Click For More Images
Will this item fit you?
To avoid disappointment and restocking fees, please read our
Sizing Guide for complete measuring and fitting information.
SOLD